We are responsible for commissioning health and care services for the people of Camden and making sure these services meet the needs of local people.
It's our job to make sure that residents receive high-quality healthcare services whenever they need them – whether this is advice from a pharmacist or GP, a procedure in hospital, help at home through local community services, or support with mental health.
Camden, together with four other London boroughs – Barnet, Enfield, Haringey and Islington  – makes up the North Central London Integrated Care Board (NCL ICB).
NCL ICB is part of North Central London Integrated Care System (NCL ICS) which brings together NHS organisations, local authorities, community organisations and local people to ensure our residents can live healthier, happier lives.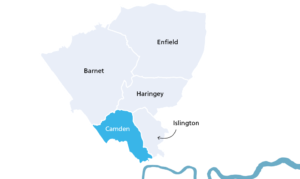 Camden has a population of around 270,000 people, with over 40% of the population coming from BAME backgrounds.
Camden's population continues to grow and change in new ways, with a predicted increase of around 22,600 people by 2029 and the biggest growth expected in the over 60s.
This represents a growing pressure on local health and care services. In response to these challenges, we are focused on transformative programmes, including working with our frail elderly and child populations, those with long-term conditions and mental health.
While there has been some progress, there is still a long way to go to address health inequalities and improve local health outcomes and that's why we are working with partners as part of an integrated care partnership to maximise the impact we can have on addressing health inequality.
We are now aiming to bring together the services that can be accessed by individuals living in Camden to provide an improved quality of service that makes better use of our resources.
This approach to health and care will be more consistent and has a focus on prevention and supporting people to care for themselves, not just treating people when they are unwell.
Camden is a diverse borough.
In Camden, the care that people receive outside of hospital comes from many different places, including GP surgeries, community health centres, specialist units and social services.
The Camden Borough Partnership is overseen by a board that has representatives from local providers, as well as patient organisations, commissioners and voluntary organisations.
Members of the Camden Borough Partnership Board are:
Haverstock Healthcare 
North Central London Integrated Care Board
CPPEG
If you would like to find out more please email nclicb.communications@nhs.net
To make sure health and care services are sustainable for all local people, it is very important that Camden residents are involved at every stage.
We have had input and involvement from residents, patients, voluntary agencies and a range of health, care and community providers throughout the development of Camden's borough partnership .
If you would like to get more involved in the process, there are a number of opportunities.
Healthwatch – we work closely with Healthwatch Camden, who form part of our partnership and act as a voice for the people of Camden
Social media – you can like our Facebook page or follow us on Twitter to make sure you stay in the loop
Patient and public meetings – open meetings of the Camden Patient and Public Engagement Group (CPPEG) are held every second month
Patient participation groups – all GP practices in Camden have an active Patient Participation Group (PPG). Contact your practice if you're interested in joining yours
For more information about attending meetings or getting involved, please contact nclicb.communications@nhs.net
We have also set up a Citizens' Panel that includes Camden residents who regularly share their views on local services and what needs to change.
Want to stay up-to-date with the latest news and events?
We will not inundate your inbox, but we will keep you informed by sending you our monthly resident-focused newsletter.
We will, from time to time, email you any time-pressured information (such as important public consultation information or patient calls to get involved) and we will send you details about events that are open to the public (for example public meetings or health educations talks).
For more information email nclicb.communications@nhs.net